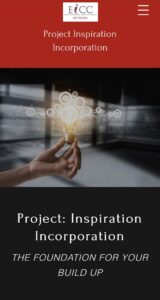 INSPIRING NEW BUSINESS INCORPORATIONS
We understand the many obstacles for startups and although there are many to be addressed, we are helping entrepreneurs get a start on the foundation for their businesses helping them get incorporated with the state; name reservations; EINs; a web domain; and developing the business vision, mission statements; and strategic plans both short & long terms.
Additionally, EICC Network will host a series of monthly After-Session Programming to assist these businesses continue to grow & progress including offering, "Building Business Credit," among 11 other related topics hosted by vetted subject matter experts (SMEs). 
For details, click here.